Singapore Airlines is to start returning Airbus A380s to service with the re-introduction of the double-deck type on the London Heathrow route.
The 471-seat aircraft, configured in four classes, will be redeployed to the UK capital from 19 November, the carrier states, serving one of its daily non-stop services.
"This will make it the first Singapore Airlines A380 to return to the skies for long-haul travel," the carrier adds.
It is scheduled to operate the SQ317 and SQ322 services. The SQ317 flight is a designated quarantine-free service under Singaporean vaccination travel lane arrangements developed as part of the country's pandemic response.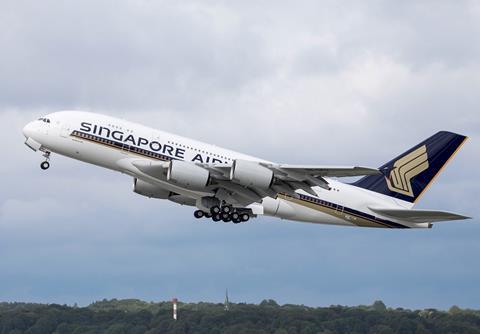 SIA's UK and Ireland general manager, Mohamed Rafi Mar, says the A380's redeployment is a "positive step" to international travel recovery.
He says the resumption of A380 flights will provide the airline's passengers with "enhanced travel options" on the route.
SIA, which re-opened its premium lounge at Heathrow in September, is operating 18 flights weekly on the route and will increase this to 21 from the beginning of November. It is also serving Singapore thrice-weekly from Manchester.