Air Greeland has formally placed its order for a single Airbus A330-800, nearly a year after disclosing it had selected the twinjet to replace its A330-200.
The carrier will receive the aircraft in time to ensure long-haul continuity between Greenland and Denmark from the end of 2022.
Chief executive Jacob Nitter Sorensen says the aircraft is a "fundamental part" of its fleet, and the A330-800 will be the "perfect fit" for the service.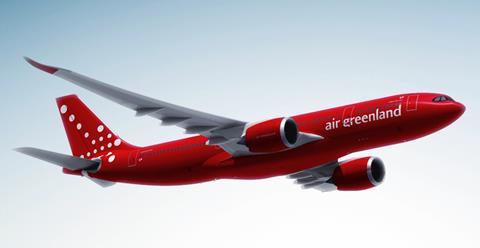 "We're pleased to see Air Greenland renew its confidence in the A330 family," adds Airbus chief commercial officer Christian Scherer.
Air Greenland's current A330 is a 1998 airframe, registered OY-GRN, powered by Pratt & Whitney PW4000 engines.
Modernisation to the A330neo will involve a change of engine supplier as the new aircraft is exclusively fitted with Rolls-Royce Trent 7000s.
Airbus has experienced a rough year for long-haul aircraft business. The agreement is its first for a widebody since the end of March.
It had not secured any A330 orders for 2020 by the end of November. While it had listed orders for 21 A350s – from Air France, Air Lease, and an undisclosed customer – the cancellation of previous agreements for 22 A330s and A350s left the manufacturer with a widebody net order deficit.