Russian budget carrier Smartavia has signalled that it is embarking on a fleet expansion and modernisation involving over 40 aircraft.
The airline has newly introduced three Airbus A320neos and states that it is to take another at the end of January 2022.
But Smartavia also says its strategic development plan involves renewing the fleet with up to 43 aircraft by 2025.
It says this expansion will enable it to increase annual passenger numbers from 3 million to 16 million, and the Arkhangelsk-based carrier aims to become "one of the five leaders" in the Russian air transport industry.
"Effective development of the airline is impossible without modern, economical aircraft," says Smartavia chief executive Sergei Savostin.
"This year we've [started operations with] three A320neos and will continue to expand the fleet with these aircraft."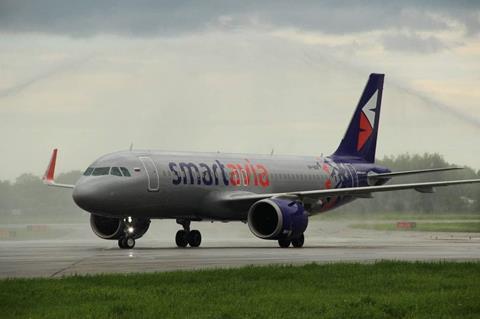 Smartavia's current A320neo fleet – VP-BOS, VP-BOF and VP-BOZ – are all second-hand aircraft, having originally been delivered to Mexican operator Interjet in 2017.
But the latest aircraft, it says, will be delivered new from the assembly line in Hamburg.
It will be configured with 188 seats in an all-economy layout, and powered by CFM International Leap-1A engines.
Smartavia was formerly known as Nordavia and, prior to that, as Aeroflot-Nord. The airline's fleet also includes around a dozen Boeing 737-700s and -800s.