Latvian wet-lease specialist SmartLynx is establishing an Airbus A321 converted freighter partnership with US lessor Aero Capital Solutions.
Texas-based Aero Capital Solutions is already involved in the single-aisle passenger-to-freighter sector with interests in Boeing 737-800 conversions.
Under the new agreement SmartLynx will operate the converted aircraft while Aero Capital will act as lessor and financier.
Four initial aircraft have already been selected through a sale-and-leaseback between the parties, and the twinjets will be delivered in the first half of next year.
The agreement will take the SmartLynx A321 freighter fleet to 15. It has identified the four additional airframes as ex-Finnair aircraft, with MSNs 941, 961, 1185 and 1241.
SmartLynx chief Zygimantas Surintas says the two sides already have a "long-established relationship" in the passenger aircraft sector.
"[Aero Capital's] unique mix of hands-on mid-life aircraft expertise, freighter conversion knowledge, and engine support is an excellent fit for SmartLynx," he adds.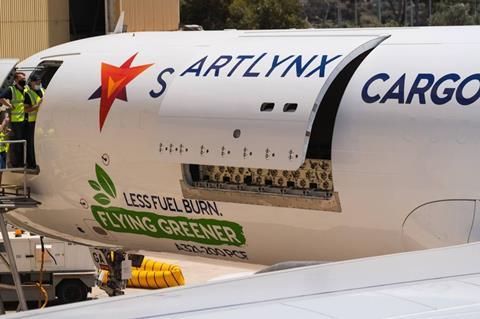 The chief of Aero Capital, Jason Barany, says the company is "eager to break into" the A321 freighter market.
Aero Capital adds that it will "complement" its involvement with 737-800 freighters, which currently totals 40 aircraft.
"Addition of the [A321] programme further exemplifies [our] specialisation and expertise in the narrowbody freighter market," it states.
Aero Capital's most recent 737-800 conversions will be performed at the Chinese HAECO Xiamen and STAECO facilities.