Nigerian carrier Air Peace is to introduce a pair of Airbus A320s through Latvian-based wet-lease specialist SmartLynx Airlines.
Air Peace will become a new customer for the operator, says SmartLynx.
It will station a pair of A320s in Lagos until mid-May next year.
Air Peace chief operating officer Oluwatoyin Olajide says the damp-lease agreement for the aircraft will "meet the growing travel demand" in Nigerian and West African markets.
The airline is expecting to take delivery of another pair of Embraer 195-E2 regional jets, of which it already has four.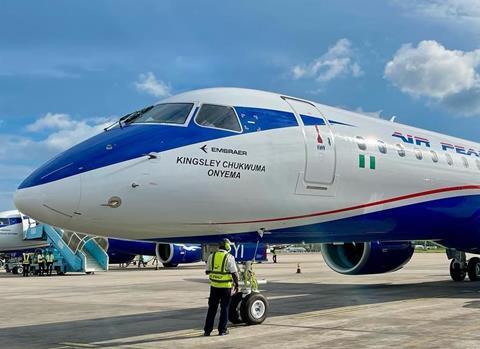 "Air Peace is committed to reducing the air travel burden of Nigerians and this deal with SmartLynx is a testament to this commitment," Olajide adds.
The two A320s will be deployed on domestic and regional routes to improve connectivity over the winter season.
SmartLynx says its pact with Air Peace is part of its effort to explore potential new markets, to support "safe travel".
Air Peace operates a fleet which includes older-variant Boeing 737s as well as 777s, and is a customer for the 737 Max.