South African citizens are being urged to boycott flag-carrier South African Airways by an anti-maladministration organisation which focuses on the country's state-owned enterprises.
The Organisation Undoing Tax Abuse has sharply criticised the South African finance ministry's bailout of SAA in its mid-term budget, after months of uncertainty over the sourcing of funding for the embattled airline's rescue plan.
Finance minister Tito Mboweni told parliament on 28 October that SAA would receive another R10.5 billion, on top of a previous R16.4 billion injection.
OUTA describes SAA as a "vanity project" which "robs the poor" and takes priority away from other institutions.
"[We are] extremely concerned about the allocation…to implement what we believe is an unworkable business rescue plan at SAA," says chief executive Wayne Duvenage. "We understand that debts need to be settled, but we cannot watch more precious tax revenue being wasted to revive a dying entity."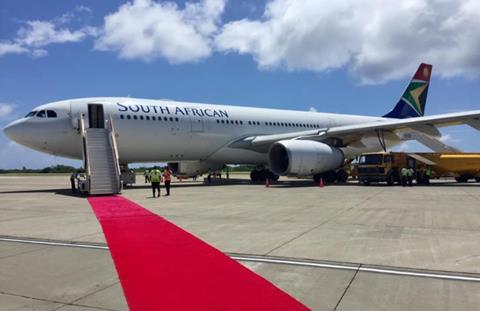 Duvenage adds that the organisation, which believes SAA should be liquidated, is calling on South African citizens to "boycott" the airline.
It insists that a relaunch of the carrier in the current economic climate would result in further large losses, saddling the taxpayer.
IATA downgraded its African forecast for 2020 in mid-October, three months after the creditors voted to accept SAA's business rescue plan.
The airline association expects full-year passenger numbers for Africa to be down 70% on last year's levels, rather than the 55% estimated in July.
IATA expects the number of passengers to reach 70 million in 2021, but this is still only 45% of the figure recorded in 2019. Restoration of pre-crisis levels is not expected until late 2023.
"We thought that demand reaching 45% [of 2019 levels] was as grim as it could get," admits IATA's regional vice-president for Africa and the Middle East, Muhammad Albakri.
But although African domestic travel is increasing, the association says, international travel remains "heavily constrained" with major markets including the European Union closed.
IATA says several African airlines have either ceased operations or remain in financial distress, and is supporting efforts by national governments to provide financial support.
"Much-needed financial relief has been pledged, but little has materialised," claims Albakri.
But OUTA public governance division executive manager Julius Kleynhans argues that the deterioration in air traffic forecasts undermines the approved SAA business plan and the case for government funding.
"In our opinion, SAA's funding request to [the national treasury] cannot be justified," he says, adding that a funding commitment based on outdated information would be "throwing good money after bad".
Kleynhans also believes that recent prospective partnerships between South African regional carriers and the Gulf airlines Emirates and Qatar Airways further weaken SAA's business model.