Two former SAS Bombardier CRJ900s have been introduced to South African operator CemAir, complementing the carrier's regional fleet.
Both aircraft – bearing serial numbers 15398 and 15400 – are 2016 airframes and were formerly operated by Ireland's CityJet and served within the SAS fleet.
CemAir has signed long-term operating agreements for the jets, says specialist lessor TrueNoord.
The aircraft have been introduced to the carrier's fleet over the last few weeks.
TrueNoord says it worked with remarketing agent Airstream International to finalise the lease agreement with CemAir.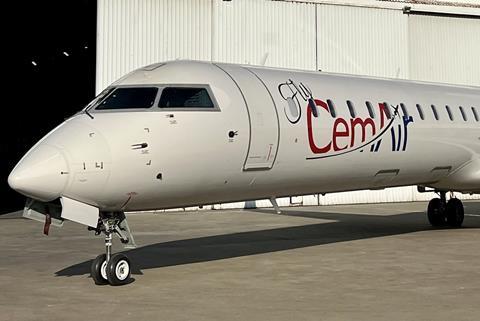 The jets are the first aircraft to be leased to South Africa by the company, and are being stationed at Johannesburg's OR Tambo airport.
CemAir operates a mix of CRJs as well as De Havilland Dash 8 and Beech 1900 turboprops on domestic and regional sectors. Chief executive Miles van der Molen says the CRJ900 transaction with TrueNoord has been "seamless".
TrueNoord chief Anne-Bart Tieleman says intra-African routes are "still underdeveloped" and that regional aircraft offer "huge opportunity to unlock this potential".