Two South Korean low-cost carriers — T'way Air and Jeju Air — widened their third-quarter operating losses, despite reporting an uptick in revenue.
They cited a rise in coronavirus infections in the country during the July-September quarter, among the reasons for their poorer performance.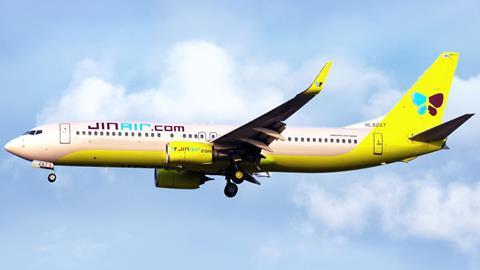 Meanwhile, compatriot Jin Air managed to trim its losses as revenue increase outpaced a rise in costs.
For the three months to 30 September, Jin Air was W44.5 billion ($51.4 million) in the red at the operating level. This compares to the W49.2 billion operating loss it reported in 2020.
Revenue for the quarter rose 13% to W60.7 billion, while costs inched up 2% year on year, to W105 billion.
With South Korea's international borders still largely shut, domestic flying made up the bulk of Jin Air's third-quarter revenue, at 83%. The carrier flew 1.4 million passengers in the quarter, 13% higher year on year, with capacity rising 9% and traffic increasing 14%.
As for T'way, it posted an operating loss of W39 billion, widening the W31.7 billion loss it reported during the same period in 2020.
Quarterly revenue rose about 9% to W53 billion, with domestic passenger revenue making up nearly 90%. The airline carried 1.28 million passengers during the quarter, about 4% higher year on year, though that failed to stem its losses.
Jeju Air, meanwhile, reported an operating loss of W90.5 billion, a heavier loss compared to the W69.2 billion loss it posted in the same quarter in 2020.
Revenue rose 15% year on year to nearly W68 billion, which the airline attributes to "aggressive frequency increase of domestic routes".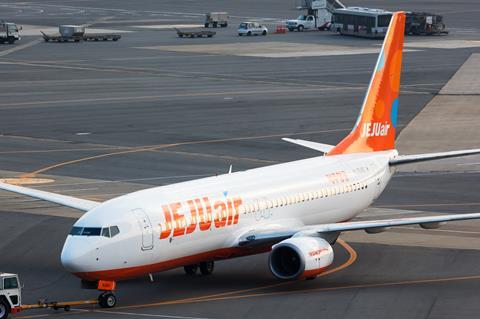 Jeju Air posted a third quarter net loss of W82.3 billion, widening the W65.9 billion net loss in 2020.
The carrier says it is working to improve its financial situation by increasing its paid-in capital, as well as "resolving uncertainties regarding liquidity crisis and capital impairment".
It will also reduce fixed costs by returning aircraft, as well as putting some employees on furlough.