Three South Korean low-cost operators continued their loss-making streak in the second quarter of the year, despite a steady increase in revenue.
While Jeju Air, Jin Air and T'way Air all narrowed their losses, their financial performance stands in stark contrast to that of the country's two full-service carriers Korean Air and Asiana Airlines, which were profitable on the back of strong cargo performance.
More crucially, the weaker financial performance reflect the impact that closed borders in the key markets of China and Japan have on recovery prospects.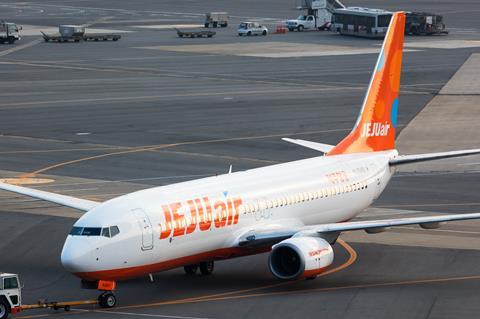 For the three months to 30 June, Jeju Air reported an operating loss of W55 billion ($41.5 million), an improvement on the W71 billion loss in same quarter in 2021.
The airline saw a 68% rise in revenues to W125 billion, as the airline increased the number of international flights with borders reopening.
Costs rose about 26% to W155 billion, with fuel-related expenses nearly doubling year on year.
Net loss for the quarter remained the same, at around W56 billion.
As for Jin Air, it was W15 billion in the red for the quarter, narrowing the W49 billion operating loss posted in 2021.
Revenue for the period rose 63% to W126 billion, with international passenger revenue share increasing with border restrictions easing. The carrier saw a thirteen-fold jump in international passenger traffic for the quarter, with capacity increasing six-fold.
Costs increased 29% to W141 billion, with fuel expenses making up nearly a third of total expenses.
Meanwhile, T'way Air reported an operating loss of W29.5 billion, narrowing the W35 billion loss in 2021.
Revenue rose 65% to about W94 billion, with the airline attributing the increase to the "partial normalisation" of international flying.