Indian low-cost carrier SpiceJet saw operating losses for the second quarter of its 2021-22 widen to Rs5.6 billion ($75.3 million) from Rs1.1 billion a year earlier.
Revenues rose 18.4% year on year to Rs15.4 billion, but expenses jumped 50% to Rs21 billion, according to the airline's financial statement for the three months ended 30 September.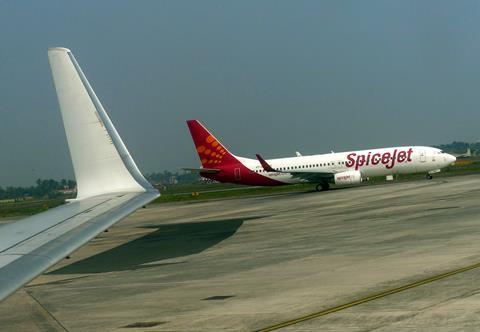 The airline's net loss ballooned to Rs5.6 billion from Rs1.3 billion a year earlier.
"On account of its operational and financial position, and the impact of the ongoing Covid-19 pandemic, the Group has deferred payments to various parties, including lessors and other vendors and its dues to statutory authorities," says SpiceJet.
Cargo is one bright spot. In the second quarter SpiceJet's cargo revenue doubled year on year to Rs5 billion.
As of 30 September, cash and cash equivalents stood at R411 million, compared with Rs296 million on 31 March.
The airline has yet to reinstate the Boeing 737 Max, and adds that it continues to pursue claims against the manufacturer for the global grounding that followed two fatal crashes in 2018 and 2019 – New Delhi cleared the type to resume operations in August.
The airline suggests that it aims to reintroduce the type, but does not give a specific timeframe.
SpiceJet adds the coronavirus pandemic continues to have an effect on its operations, but notes that it has offset this with cargo operations.