German rail operator Deutsche Bahn is to become a non-airline partner of Star Alliance, offering surface connections to passengers of the carrier group later this year.
Deutsche Bahn will be the alliance's first intermodal partner from 1 August.
It states that the tie-up will "intelligently connect" air and rail, and potentially other modes of transport as the model progresses.
Star Alliance chief Jeffrey Goh says the partnership "opens the doors" of the alliance "beyond the airline world".
"Our new model for intermodal partnerships creates the conditions for co-ordinated cooperation between different modes of transport in all Star Alliance markets," he adds.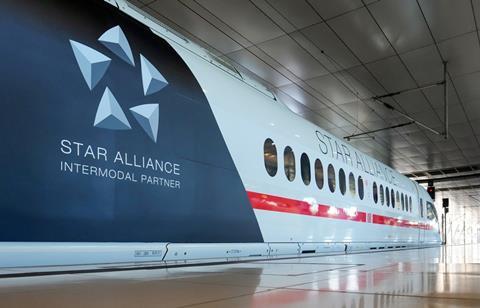 Star Alliance carrier Lufthansa already has an air-rail co-operation, known as Lufthansa Express Rail, which offers a similar transfer capability, and the new arrangement builds on this predecessor.
Lufthansa executive board member Harry Hohmeister says the Star Alliance intermodal initiative is "the next step".
"Once again we are pioneers in Germany for the intelligent linking of transport worlds," he says. "We create added value for customers, for Germany as a business location, and for the environment and society."
The agreement is aimed at supporting efforts to reduce emissions in the transport sector, enabling travellers with the 26-airline alliance to use a single ticket to connect between flights and the rail network.
"This is how we get more people off aircraft and onto environmentally friendly rail," says Deutsche Bahn board member for long-distance passenger transport Michael Peterson.