Start-up African carrier Eswatini Air is aiming to commence services before the end of March, in time for the summer schedule.
The airline – which will be based in the state formerly known as Swaziland – is being set up by Royal Eswatini National Airways Corporation.
It says that it has secured approval for an air operator's certificate and claims to be making "tremendous progress" towards obtaining the documentation needed to open routes to various destinations.
These include a foreign operator permit for Zimbabwe, while a similar permit for South Africa is being sought.
The corporation has applied for landing slots at Harare, Johannesburg and Cape Town.
"We expect to have everything regarding that smoothed out very soon," it states, adding that it will publish schedules and fare pricing once the procedures are complete.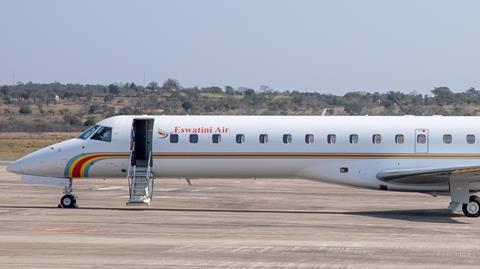 Eswatini Air has been granted the IATA designator code 'RN' and the ICAO code 'SZL'.
It has not fixed a date for initial services but says it intends to begin operations at the beginning of the summer season on 26 March.
"We have seen it fit to break our launch into three phases," says the company.
"We envisage starting with one destination and the two others will be added after an interim period of less than one month."
It says a fourth destination will subsequently be added in the third phase, but it has yet to finalise the dates and the introduction sequence for its destinations.
"While we finalise the processes, we have embarked on the recruitment of required personnel and training is underway for them to be ready by the launch date," the company states.
Eswatini Air has previously indicated that it will operate a pair of Embraer ERJ-145s, and that it will extend its network to Durban.
Cirium fleets data indicates the company has obtained a pair of ex-Hop aircraft – originally delivered in 1998 and 1999 – and registered them locally last year.