Scandinavian long-haul start-up Norse Atlantic Airways has secured an air operator's certificate from the Norwegian civil aviation regulator.
Norse Atlantic obtained the approval as it seeks to commence transatlantic operations from spring next year.
The airline recently took delivery of its first aircraft, a Boeing 787-9, in Oslo.
Founder Bjorn Tore Larsen says the carrier is "one important step closer" to opening services between Europe and the USA. Its initial flights will depart from Oslo.
"We've had a good and constructive dialogue with Norse throughout the process of issuing a Norwegian AOC," says Norwegian civil aviation authority chief Lars de Lange Kobberstad.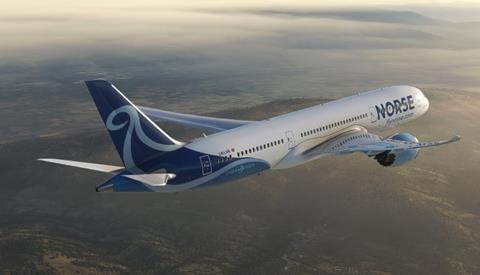 The airline was founded in March this year, shortly after budget carrier Norwegian – struggling to emerge from a restructuring process – opted to ditch its long-haul, low-cost division which used a fleet of 787s.
Norse Atlantic will begin services with 15 787s, among them aircraft which were formerly part of the Norwegian fleet.
Its network will include such US cities as New York, and the carrier aims to expand its European network to feature Paris and London.