Singapore Airlines Group took on a hefty impairment charge of S$1.33 billion ($987 million) from the early retirement of 26 older aircraft — including seven Airbus A380s — which led to a record net loss in its half-yearly earnings.
The group says that the 26 aircraft were "deemed surplus to fleet requirements", following a company-wide review of its future fleet and network that kicked off in July, when it disclosed its quarterly earnings.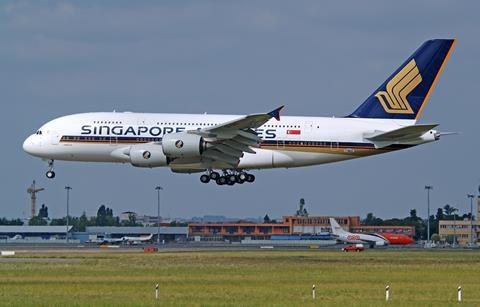 Apart from the seven A380s, SIA Group, which also comprise regional unit SilkAir and low-cost subsidiary Scoot, will also remove four Boeing 777-200/200ERs, four 777-300s, as well as nine A320s and two A319s.
The non-cash impairment from the retirement of these aircraft drove its net loss deeper. For the six months ended 30 September, it reported a net loss of S$3.5 billion.
SIA's net loss also took a hit from the liquidation of Thai low-cost joint venture NokScoot in June. SIA Group took a S$127 million charge, comprising mainly the impairment of seven 777 aircraft leased to the Thai carrier, as well as its share of related costs.
The group also incurred a cost of S$42 million for the period resulting from a round of job cuts in September. It made more than 4,000 positions redundant across the group, but the actual number of staff axed was only around 2,000.
For the six-month period, SIA plunged to an operating loss of S$1.9 billion, as it felt the sting of the coronavirus crisis.
Revenue tumbled 80% to S$1.6 billion, led by sharp decreases in passenger revenue. However, SIA reported a 28% rise in cargo revenue, which helped limit the collapse in revenue.
Expenses, meanwhile, were cut about 56% year on year to S$4.4 billion, helped by lower non-fuel expenditure, which fell 54% year on year, as well as lower net fuel costs.
For the period, SIA Group carriers only carried 155,000 passengers, less than 1% compared to the same period last year. RPKs tumbled 99% year on year, while it cut ASK capacity 94%, leading to load factor of just 15.9% This was down 68.7 percentage points on th previous year.
The group flagged its cargo operations as an opportunity for growth in the near term, adding that it will expand the number of aircraft that will be modified to carry cargo.
It says: "The group expects to see a progressive recovery in general cargo demand and continued strong demand from the pharmaceuticals and perishables segments."
"We will continue to grow capacity to meet demand and expand the cargo network by deploying passenger aircraft on dedicated cargo operations."