Troubled UK regional carrier Flybe is widely reported to be set to cease operations and file for administration.
Widespread media reports in the UK earlier on 4 March suggested Flybe would announce it is filing for administration after completing its last flights. The airline appeared on the brink of collapse in January, before a deal brokered with the UK government prompted investors to provide further limited funding for the airline.
Reports surfaced today that the government had rejected its request for a £100 million loan, while financial pressure had increased on the carrier in recent days as air travel demand was impacted by the coronavirus outbreak.
There remains no formal announcement from Flybe, but the airline's website has been showing an error message since 23:00 on 4 March, while images circulating on social media show notifications from the operators of Glasgow and Aberdeen airports to impound Flybe aircraft.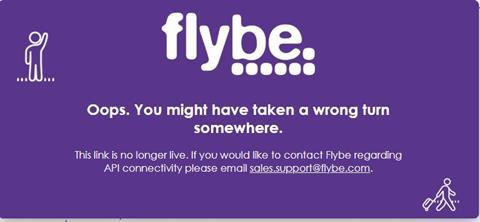 A statement on the Blue Islands website, a Flybe franchise partner, says its services "will continue to operate, following the closure of Flybe".
Another Flybe franchise partner, Eastern Airways, also advised passenger to arrive as normal in the coming days following the closure of Flybe.
UK cockpit union BALPA has prepared a statement mentioning that Flybe has "ceased trading", although this appears to have pre-empted a public confirmation from the carrier.
In the statement BALPA points out that the UK government had "promised a rescue package" for the airline – acquired by a Virgin Atlantic consortium about a year ago – after it faced financial problems earlier this year.
"Flybe staff will feel disgusted at this betrayal and these broken promises," says BALPA general secretary Brian Strutton.
Nadine Houghton, a national officer at the GMB union, says: "These unfolding developments are a tragedy not only for Flybe's loyal workforce, but a domino effect now puts 1,400 jobs in the wider supply chain at immediate risk and threatens the future of vital regional airports."
The airline had been planning to rebrand as Virgin Connect, operating as a feeder service for Virgin Atlantic long-haul flights.
Flybe assets were acquired in early 2019 by the Connect consortium, comprising Virgin Atlantic, Stobart Group and Cyrus Capital. But while the cut-price deal was announced in January 2019, the consortium did not receive European Commission clearance for the acquisition until July 2019.
"The delay in receiving control, coupled with a number of other factors including legacy issues, impacted on the delivery of the consortium's turnaround plan for Flybe," Stobart said, when in January it confirmed it was an investing an additional up to £9 million in the airline to keep it flying.
Exeter-based regional Flybe, which was established as Jersey European Airways and later became British European, operates a fleet of over 60 Bombardier Q400 turboprops and Embraer E-Jets. The carrier had reported an operating profit only once during the last decade.
Story updated 01:20 on 5 March to add Eastern Airways information