Starlux Airlines is set to become Taiwan's first Airbus A330neo operator, after the carrier ordered eight examples of the widebody.
Airbus, announcing the order on its social media channels, states that the eight widebodies will be leased from Air Lease Corporation.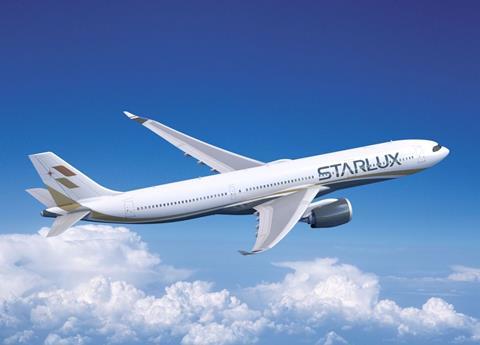 Responding to FlightGlobal's queries, Starlux confirms that it will take the first aircraft from as early as late next year.
The order comes as the delivery timeline for the start-up carrier's first A350 moves to the right. Starlux was supposed to have taken its first A350 late next year, but it has since been delayed to 2022.
Cirium fleets data indicates Starlux has 17 A350s on order, comprising nine A350-900s and eight A350-1000s. The carrier tells FlightGlobal that it will lease one more A350-900, bringing its A350 fleet to 18 examples.
The carrier plans to also lease three more A321neos, adding to an existing seven examples on order. Starlux currently operates three A321neos, and states that the delivery of all 13 examples is expected to be completed by end-2021.
"The combination of the three aircraft types will provide maximum level of efficiency and operational flexibility to the Starlux network," the carrier adds.
Starlux is Taiwan's newest carrier, having launched operations in January 2020 with three routes from Taipei Taoyuan to Macau, Da Nang and Penang.
Story updated with confirmation from Starlux about A350 and A321neo orders.