TAP Air Portugal claims to be recovering "more rapidly than its peers" from the Covid-19 crisis, while also acknowledging that its future health depends on execution of its restructuring plan amid a long list of headwinds.
Announcing its second-quarter results on 23 August, the Lisbon-based carrier said that revenues of €1.3 billion ($1.3 billion) for the period ended 30 June 2022 were 99% of the pre-crisis level, with forward bookings in the current quarter at least matching 2019 performance.
That revenue recovery helped TAP to an operating profit of €66.4 million for the second quarter, with rising fuel costs being moderated by the airline's hedging policy.
"The second quarter saw very healthy demand and higher revenue per passenger, which allowed us to offset the increase in costs," says TAP chief executive Christine Ourmieres-Widener.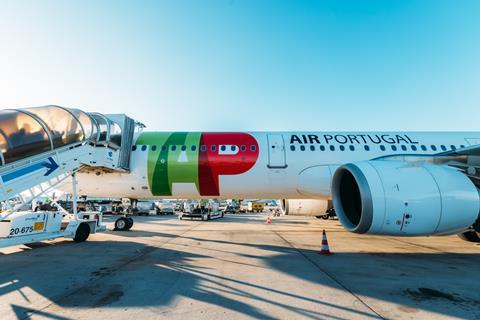 Moreover, TAP cites data showing that against pre-crisis levels, capacity of 92% and passenger traffic of 88% put it ahead of the three big European airline groups – Air France-KLM, IAG and Lufthansa – on those measures during the quarter.
A net loss of €80.4 million came, however, amid a €58.2 million hit from unfavourable currency developments linked to appreciation of the US dollar.
And as the Star Alliance carrier continues to work on "multiple cost-reduction initiatives across entire cost base", it warns of uncertain prospects for the final months of 2022 and into 2023.
"Prospects for the fourth quarter and next year remain uncertain," Ourmieres-Widener says, adding: "The execution of the restructuring plan remains key."
Crucially, the final tranche of TAP's restructuring aid – €990 million of a total contribution of €2.55 billion – is still pending but is "expected to be executed by the end of the year", TAP says.
It highlights several important restructuring tasks during the second half of 2022, as the Portuguese flag carrier continues on "the path to achieving sustainable profitability". They include negotiation of new collective labour agreements, overhauls of its onboard service and lounges, a review of governance processes "to improve transparency" and continued work on "optimisation of network".
Such initiatives are given more urgency by the headwinds faced by TAP and the wider industry, it observes, including geopolitical uncertainty, the risk of recession, high inflation, currency fluctuation and operational disruption at European airports, including at its Lisbon base.
Helping the business going into the latter months of the year, which are "seasonally the largest consumer of liquidity", TAP highlights an increase in its liquidity position to €890 million at the end of the second quarter, from €787 million at the end of the first three months of the year.
The European Commission's approval of the €2.55 billion state aid package in December 2021 – which allowed TAP to transition to 100% state ownership – placed a number of restrictions on the carrier during its restructuring, including a fleet cap, slot remedies at Lisbon airport, a ban on acquisitions and the disposal of non-core units.