Portuguese flag-carrier TAP is rejigging its regional aircraft composition, ditching some of its wet-leased ATRs in favour of Embraer jets from its Portugalia arm.
Conditions attached to the airline's restructuring programme limit its fleet size to a maximum of 99 aircraft. The carrier has also had to surrender slots.
This has forced TAP to adjust capacity in favour of larger aircraft.
It is cutting the number of ATR turboprops from six to two, while the regional arm Portugalia will operate six Embraer E-Jets.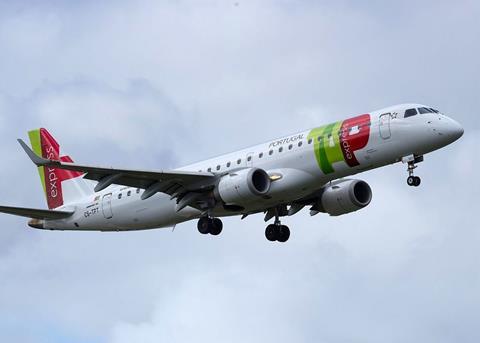 Wet-lease carrier White Airways has been operating ATRs for the carrier. But TAP claims the fleet has been suffering operational problems with several aircraft suffering technical issues, leading to high rates of flight cancellations and a cost impact.
FlightGlobal has sought comment from White Airways over the TAP assertions.
TAP says the contract with White expires at the end of October. It will only need a pair of ATRs for its network, it says, and it is negotiating with parties over operation of the aircraft.
Portugalia's E-Jets will be used to replace ATR capacity. Two commenced operations in September and the other four will be introduced by January next year.