Senior management of seven Thai airlines have petitioned the country's prime minister to provide Bt24 billion ($774 million) in soft loans to local carriers.
The government said in a 28 August statement posted on its website that executives from Thai AirAsia, Thai AirAsia X, Thai Smile, Thai Lion Air, Thai Vietjet, Nok Air and Bangkok Airways met with Prayut Chan-o-cha.
Prayut received a letter from the executives asking him to "consider measures to help the aviation business of Thailand due to the impact of the Covid-19 outbreak", the government says.
The airlines have been seeking a loan since at least April. Then, Tassapon Bijleveld, executive chairman of Thai AirAsia and its parent company Asia Aviation, said the loan would carry an interest rate of 2%, and will have to be paid back over five years starting 2021. At that time, he said the loan would be Bt25 billion.
The latest announcement from the Thai government does not mention the terms of the loan.
The prime minister said on 28 August that aviation is a key business sector affected by Covid-19 and the government will look at proposals for the aviation sector and try to help. The government wants to find a way to "unlock" aviation and to ease restrictions on domestic tourism.
It also wants to find a way to help airlines maintain operations without incurring additional liabilities and without having to lay off staff.
The airlines also asked the government to extend a tax cut on aviation fuel and reduce fees, including airport landing fees and aircraft storage fees.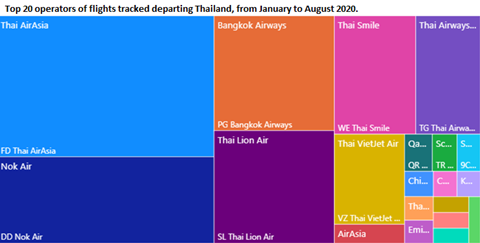 The seven airlines whose representatives met with the prime minister have been impacted by the pandemic to varying degrees.
For example, Thai Smile's parent Thai Airways filed for business rehabilitation in May and is now waiting approval from the court.
Budget carrier Nok Air, which lost Bt3.75 billion in the first half of this year, has also filed for business rehabilitation and will have its court hearing on 27 October.