Thai Airways International received court approval for its restructuring plan at a 15 June hearing, clearing the final hurdle before implementation of the proposals.
Kitipong Urapeepatanapong, partner at the company's legal adviser Baker McKenzie, has confirmed to Cirium that Thailand's Central Bankruptcy Court approved the plan, but did not offer further details.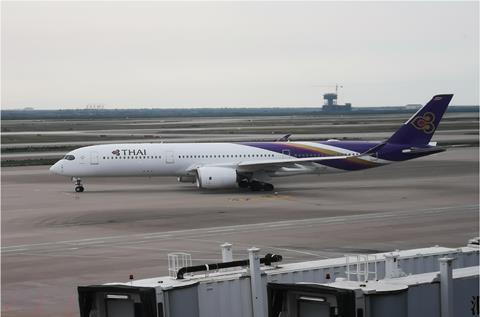 According to the rehabilitation plan Thai submitted on 2 March, its debts as of 14 September totalled Bt410 billion ($13 billion).
In order to repay these, Thai requires at least Bt50 billion in new credit and loans over a two- to three-year period from the court's approval of the plan.
The plan states that implementation should not take longer than five years from court approval, unless an extension is granted under Thailand's Bankruptcy Act.
Thai's rehabilitation plan was prepared by six individuals along with EY Corporate Advisory Services, appointed by the Central Bankruptcy Court.
In a 26 March stock-exchange disclosure, Thai projected a return to profitability in 2023.
At a 19 May meeting, creditors holding nearly 92% of Thai's total debt approved the rehabilitation plan as well as three plan-amendment petitions, according to a same-day stock-exchange filing.
That filing names five plan administrators. These include Thai's acting president Chansin Treenuchagron and independent director Pirapan Salirathavibhaga, also the airline's rehabilitation planners.
For 2020, the airline reported its worst full-year net loss, of Bt141 billion, much deeper than the Bt12 billion net loss of 2019, as one-time costs reached Bt92 billion. The airline made an operational loss of Bt48 billion, compared with one of Bt12.4 billion in 2019.
Thai flew just 5.9 million passengers in 2020, a 76% drop year on year, as capacity was cut 74% and traffic plunged 79%.