Thai Airways International, Bangkok Airways, and Thai AirAsia parent Asia Aviation all posted operating losses in the first quarter, even though Covid-19 travel restrictions have started to fall away.
In their results for the three months to 31 March, all three carriers mentioned Russia's invasion of Ukraine as a significant negative factor, particularly because Russia supplies a large number of leisure tourists. The disappearance of Chinese tourists amid Beijing's tough stance against coronavirus infections remains a major overhang.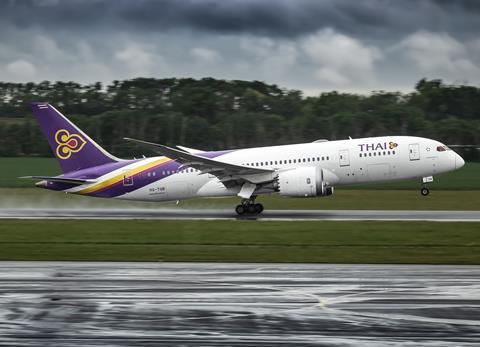 China aside, the carriers also felt that the Omicron variant of Covid-19 continued to weigh on travel demand in the first quarter.
Thai Airways International was able to sharply reduce its operating loss for the three months ended 31 March to Bt3.2 billion ($92.5 million), compared with an operating loss of Bt7 billion a year earlier.
Total operating revenues tripled to Bt11 billion, with "passenger and excess baggage" revenue rocketing nearly five-fold to Bt4.5 billion.
The carrier's net position also improved with net losses narrowing to Bt3.2 billion from Bt12 billion in the first quarter of 2021.
ASKs for the quarter nearly tripled, while RPKs rose nearly six-fold. Load factors, however, remained weak, rising 15.2 percentage points to just 32.5%.
The carrier says that although the world was starting to recover from the coronavirus pandemic in the first quarter, the Omicron variant hurt travel demand, as did Russia's invasion of Ukraine.
Bangkok Airways, meanwhile, saw first quarter operating losses widen to Bt827 million from Bt757 billion a year earlier. Revenues climbed 25% to Bt1.7 billion, while net losses widened to Bt1 billion.
The first quarter also saw ASKs and RPKs more than double with more visitors coming to Thailand amid the lifting of travel restrictions. Passenger load factors were 63.5%, up 4.7 percentage points from the first three months of 2021.
As for low-cost carrier Thai AirAsia, it was able to narrow its first quarter operating loss to Bt2.6 billion, compared with an operating loss of Bt3.2 billion a year earlier. Revenues jumped over 50% to Bt2 billion, while its net loss narrowed to Bt2.6 billion.
ASKs rose 34% and RPKs 45%. Load factors improved seven percentage points to 73%.
The carrier is hopeful that traffic will pick up owing to the resumption of tourist activity in Thailand.