AirAsia Aviation Group is seeing robust traffic growth in the quarter to 31 March, as it believes travel revival is "well underway" amid easing of travel restrictions in the region.
The aviation entity of Capital A reports a significant increase - nearly four-fold - in passenger numbers to 3.7 million passengers across airline units in Malaysia, Philippines and Indonesia.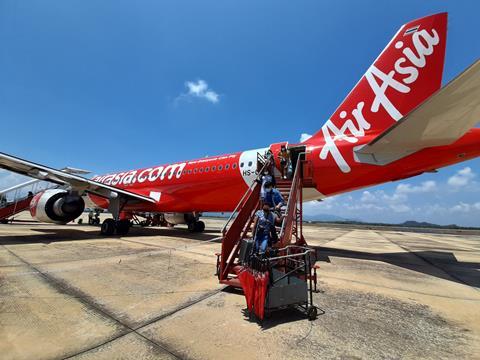 The growth was led by Malaysia-based AirAsia Malaysia, which saw a five-fold year-on-year jump in passenger numbers to 2.8 million. Capacity and traffic saw a similar increase, as the carrier resumed a significant number of domestic flights and ramped up capacity during the festive periods.
"These very promising achievements were driven by added frequencies of domestic flights in line with increased demand and were also attributed to the promotional campaigns that took place in 1Q2022," says the group.
As for AirAsia Philippines, it saw passenger numbers grow three-fold to around 561,000. Capacity and traffic also increased about three times year on year, helped by "huge summer demand" following Manila's move to further ease pandemic restrictions.
Indonesia AirAsia, meanwhile, carried 380,000 passengers during the quarter, a modest 22% increase year on year. Capacity shrank 8%, while traffic grew about 22%, leading to a 20-point jump in load factor.
As for Thai AirAsia, it reported a 48% jump in passenger numbers to 1.5 million, helped by an uptick in international passengers. The carrier's traffic and capacity during the quarter also grew by 45% and 34%, respectively.