Leisure giant TUI Group is aiming to cut or avoid recruiting around 8,000 personnel as it looks to overhaul its global activities in response to the coronavirus crisis.
TUI Group says it will "right-size" its airlines and its order book, as well as divest non-profitable businesses.
It is intending to "permanently reduce" its overhead cost base across the group by 30%, adding that the travel industry will need to evolve "even faster and perhaps more profoundly" that it had expected.
The company says, in a first-half financial statement, that it will review every business unit to identify synergies, in such areas as hotel purchasing and IT structures.
"This will have an impact on potentially 8,000 roles globally that will either not be recruited or reduced," it adds.
TUI Group says the crisis is "unquestionably" the greatest the industry has faced, and its overwhelming nature is reflected in the company's performance in the half-year to 31 March.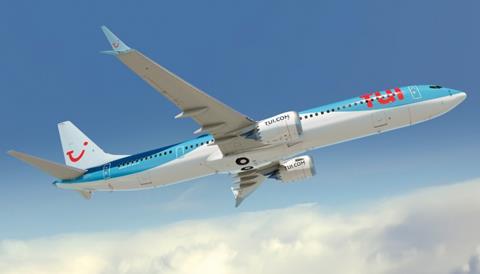 It says it had a successful start to the financial year, reducing its underlying EBIT loss for the first five months from €302 to €240 million – excluding special items such as a €66 million impact from the Boeing 737 Max grounding. Its markets and airlines division had generated a €69 million improvement.
TUI says the beginning of its summer programme had been "exceptional", with January 2020 becoming the "best ever" bookings month in the company's history.
Even by mid-February, it adds, there had been no sign of a global travel ban or any indication that the tourism industry would "come to a standstill".
But the subsequent impact of the pandemic on TUI's operations has been "undeniably acute", it states.
With its full programme suspended, underlying EBIT loss soared to €813 million at constant currency.
TUI Group says that total costs in March amounted to €470 million, including €242 million in lost contribution during the month, another €146 million in ineffective hedging, plus additional costs from repatriation and the 737 Max situation.
Over the second quarter, the markets and airlines division's losses doubled to nearly €600 million.
But the company insists it is "well-positioned" to benefit from a post-crisis recovery. "We expect travel will be different for the remainder of this year – however, we strongly believe our customers will still want to holiday," it says.
TUI Group has received a commitment from the federal German government for a bridge loan, through bank KfW, for €1.8 billion.
"With cash and available facilities as well as a number of liquidity enhancing measures, TUI has sufficient funds to cover the coming months," it says, pointing out that it had total cash and available facilities amounting to €2.1 billion at 10 May.
TUI Group adds that it is continuing to evaluate a "variety of options" in order to best position its balance sheet and liquidity throughout the disruption and beyond.