Turkish Airlines is to lease 28 aircraft – including 25 Boeing 737 Max 8s – from Irish-based lessor AerCap from next year.
Along with the 737 Max jets the carrier will lease three Boeing 787-9s.
AerCap adds that Turkish Airlines will also extend leases on six Airbus A330-200s.
The lessor says deliveries of the new 737s and 787s will begin next year and continue to 2026.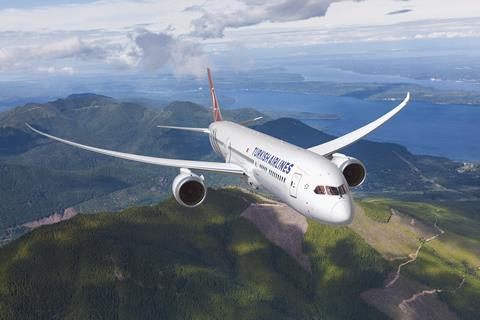 "We fly to more international destinations than any other airline and, in order to strengthen this position, we are always focused on extending our fleet," says Turkish Airlines chief investment and technology officer Levent Konukcu.
AerCap describes the agreement as a "significant transaction" with a "long-term partner".
"These aircraft will help Turkish Airlines continue to grow their already extensive route network, while improving the operational efficiency of their fleet," says chief executive Aengus Kelly.