Turkish Airlines has disclosed that it intends to purchase six Airbus A350-900s, which will be delivered over the course of this year and next.
The airline has not elaborated on the decision, which it confirmed to the Istanbul stock exchange.
Turkish Airlines has 20 A350-900s on direct order of which six have been delivered.
But this is a smaller number of A350s than the airline had originally foreseen in its fleet-development plans.
Turkish Airline ordered 25 of the Rolls-Royce Trent XWB-powered type in June 2018.
But after the emergence of the pandemic, the airline revised this backlog down to 23 aircraft in 2020, and subsequently cut another pair at the end of last year.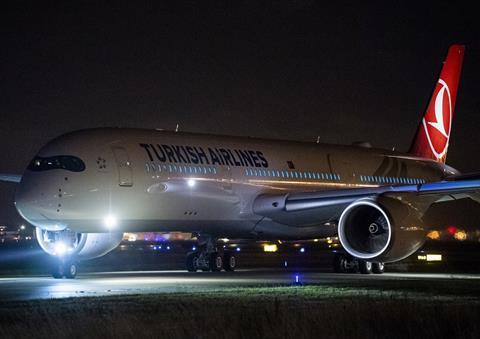 Airbus has yet to confirm any increase in the Turkish A350 backlog.
It had secured orders for 743 A350-900s by the end of April, discounting a pair originally ordered by Russia's Aeroflot before sanctions forced the airframer to undo the agreement.
Airbus still lists 20 Aeroflot -900s among its backlog figures.