Turkish Airlines generated a full-year net profit of $959 million for 2021, sharply reversing the net loss of $836 million for the previous year and exceeding pre-crisis performance.
International passenger revenues were $5.5 billion, down 44% on pre-crisis levels, while domestic revenues, which make a much smaller contribution, were down 37%.
But Turkish Airlines lists a doubling of revenues classified as 'other', totalling $4.4 billion.
The company generated overall revenues of $10.7 billion – the lowest figure since 2016 outside of the crisis-hit 2020 – but managed to keep operating expenses to $9.4 billion.
The company's pre-tax profit for the year was more than $1 billion.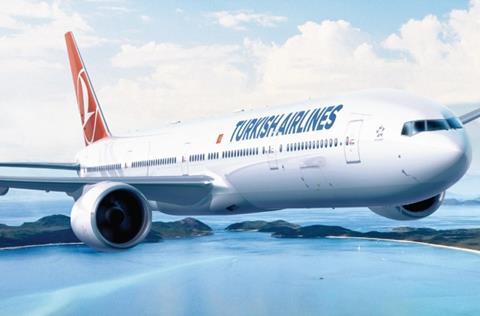 It says its capacity levels for the fourth quarter reached 84% of that supplied in the same period of the pre-crisis 2019.
"Thanks to the advantage it has on the cost side, wide flight network, effective capacity management, rapid recovery in diversified passenger segments and successful cargo operations, the group showed a faster recovery than its competitors in both financial and operational results," it adds.
Cargo operations are continuing at full capacity with its freighter fleet and about 15 long-haul passenger aircraft utilised for freight operaitons.
The contribution of cargo operations to total revenue and profit "increased significantly" compared with 2020, the company says.
Turkish Airlines says its mitigating actions to cut expenditure – including postponement of capital outlay, and deferral of aircraft deliveries – resulted in some $700 million in cost-savings last year.
The carrier introduced two additional Boeing 737 Max jets in the fourth quarter, and its fleet stood at 370 aircraft by the end of 2021.
Turkish Airlines' joint-venture carrier Sun Express also returned to profit with a surplus of $34 million compared with the previous year's $198 million loss.