Suspended South Korean low-cost carrier Eastar Jet has attracted two bidders, according to local media reports.
The two bidders for the airline are a consortium led by underwear manufacturer Ssang Bang Wool and construction firm SJ Co, according to sources cited by Yonhap News Agency.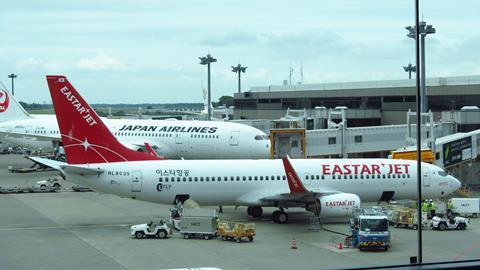 Under Korean acquisition rules, SJ Co, which made the first bid, has the right of first refusal should Ssang Bang Wool's bid be higher.
Reports suggest that the bids are in the region of W100 billion ($89.5 million).
A preferred bidder is expected to be announced on 21 June. Following this, it will be allowed to conduct due diligence into Eastar, which has lost its air operator's certificate and has not operated services since March 2020. The airline's website has also been taken offline.
In January, Eastar filed for court receivership with an eye on restructuring.
In December 2019, Jeju Air said it would acquire 51% in Easter at W69.5 billion. This was reduced to W54.5 billion in March 2020, but ultimately the deal collapsed in July 2020.
In a September 2020 interview with FlightGlobal, Jeju Air chief executive E-Bae Kim had this to say about the collapse of the Eastar acquisition: "The [sales and purchase agreement] to Eastar was officially terminated on 23rd July due to the heavy risk caused by Covid-19 and the seller's failure to fulfil the terms of contract on time given."
Cirium fleets data shows that Eastar has four aircraft in storage, two Boeing 737-800s and two 737 Max 8s. It also has orders for four Max 8s. At the beginning of 2020, the airline had an in-service fleet of 20 aircraft, comprising 18 737-800s and two -900ERs.
Prior to the coronavirus pandemic, the airline operated domestic and international routes.