Korean Air has secured UK competition approval for its proposed merger with fellow Korean operator Asiana, based on its supporting Virgin Atlantic's access to the London-Seoul route.
The UK's Competition and Markets Authority says that undertakings given by Korean Air are "appropriate" to remedy or mitigate a lessening of competition in the passenger and cargo sectors.
Korean Air entered a legally-binding framework agreement on 24 February to facilitate entry on the route between London and Seoul – with Virgin Atlantic poised to step in.
The framework includes a commitment by Virgin to operate a competitive service, with up to daily frequency, on the city-pair by the target entry date, which is either 12 months after closure of the transaction or any date in the IATA summer 2024 season.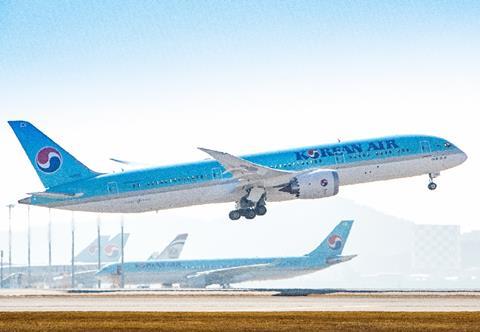 Virgin Atlantic will operate the service for at least six full consecutive IATA seasons, subject to the commercial viability of the route.
Korean Air will make slots available at Seoul Incheon and London Heathrow airports in order to allow a daily service.
It will also enter a unilateral codeshare for passenger flights with Virgin, allowing Virgin to put its 'VS' designator code on flights operated by Korean Air until it begins its own flights.
This will extend to a bilateral codeshare once Virgin commences services. Korean Air is a SkyTeam alliance member, and Virgin is also joining the group.
Virgin will also be able to request a unilateral codeshare, or cargo capacity agreement, on Korean Air services beyond Seoul, as well as a potential loyalty scheme tie-up.
"The [UK] approval is evidence that the proposed remedies submitted by the airline have resolved competition restriction concerns," says Korean Air.
It adds that it will continue to co-operate fully with European Union, US and Japanese regulators to secure remaining competition clearance. Eleven authorities – including the UK's – have so far approved the tie-up.