UK start-up long-haul carrier Hans Airways has received its first Airbus A330-200, which arrived at Birmingham from Palma de Mallorca on 2 August.
The twinjet is a General Electric CF6-powered aircraft, most recently operated by Spanish carrier Air Europa.
Air Europa originally took delivery of the A330 in 2008.
Hans Airways intends to conduct a route-proving flight with the aircraft before operating commercial services to destinations in India.
Maintenance firm STS Aviation Services will support modification work and re-registration – the aircraft will fly as G-KJAS – before entry into service.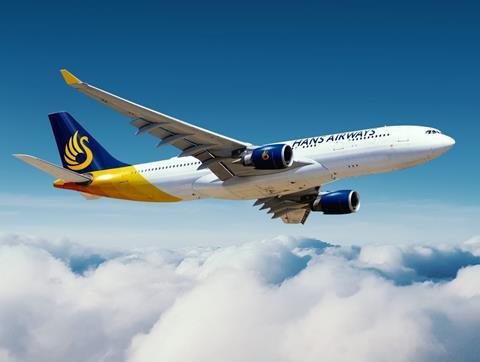 While contracted to Air Europa the jet underwent a 200h inspection in Abu Dhabi before returning to Palma for finalisation of the transfer to the UK.
Hans Airways chief Satnam Saini says the airline has expanded its management team over the past year to include a "wealth of competence and experience", while training "exceptional" pilots and cabin crew ahead of receiving its air operator's certificate.
The carrier intends to operate initially to Amritsar with a four-times weekly service once it has obtained authorisation in the UK and India.
Saini says the airline will operate wet-lease and charter services to assist with crew training ahead of the introduction of scheduled flights.