Ukraine's government is to invest in creating a new state carrier, under the working name of Ukrainian National Airlines, as part of a programme of economic development.
President Volodymyr Zelensky unveiled the plan during a forum on aviation and tourism, stating that the government was "moving to practical implementation".
"This is our national airline, its creation will be officially launched today," he said, adding that the country was "ready to invest" in aircraft fleets, manufacturing and infrastructure.
Infrastructure minister Oleksandr Kubrakov says the establishment of a national airline should not "frighten" private operators because "the market will expand and everyone will have enough space".
He insists the new airline, to become profitable within five years, will help protect the country's strategic air transport interests.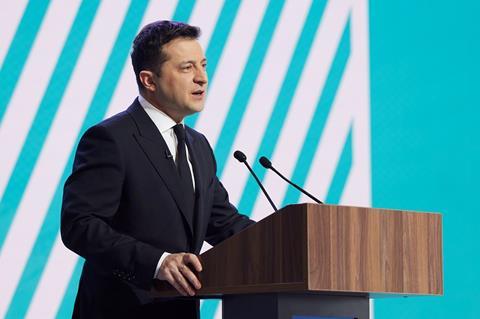 The government has not given further details of the fleet, but Interfax-Ukraine is citing a memorandum with Airbus covering four long-haul jets – either A350s or A330s – plus 18 single-aisle aircraft including six A220s. It also indicates French consultant Aerogestion has been involved in the strategic planning.
Prime minister Denis Shmyhal says Ukraine lies at a "unique geographical location, at the crossroads between continents".
This enables it to become a "major regional aviation and tourism hub", he adds, and expects the evolution of visa-free travel – through the common aviation agreement with the European Union – to help stimulate the development of local carriers.
Shmyhal says the EU agreement opens the possibility for certification recognition for Antonov aircraft, as well as providing more affordable air travel and greater competition in the airline market.
"It supports our excellent school of aircraft manufacture, which is many decades old. We will fully support Ukrainian aircraft construction," he says.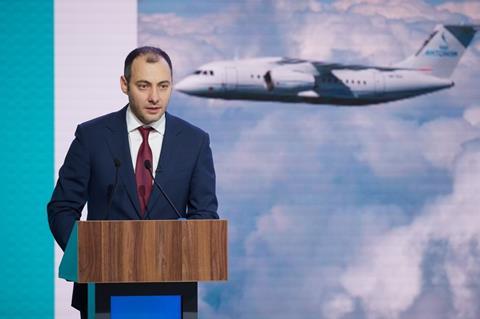 The government has invested Hr3.4 billion ($125 million) in aviation-related projects this year, claims Shmyhal, including Hr1.4 billion on an airport in Dnipro and Hr700 million on Odessa airport, while another Hr200 million has been approved to fund a new terminal at Kiev.
Shmyhal says the country has a 10-year strategic development programme for the aviation industry covering the period to 2030, which includes investment of more than Hr34 billion in aircraft manufacture.
He says 45 aerospace companies will receive tax benefits as part of the plan, and estimates the value of aircraft sales over the period at over Hr300 billion.