Ukrainian carrier Air Ocean Airlines has commenced commercial services, operating an initial network of domestic routes using Antonov An-148 twinjets.
The airline, which secured an air operator's certificate on 23 October, has opened sales for scheduled services to Lviv, Kharkiv, Zaporizhia and Chernivtsi.
It carried out its first flight – on the Kiev-Zaporizhia route – on 21 November, and has since conducted services on other sectors.
"When choosing the aircraft, we analysed the air transportation market, the capabilities of aircraft and focused on the An-148," says Air Ocean director Nikolai Melnichenko.
The airline has two of the type – registered UR-CTC and UR-CTF – and plans to operate up to 10, according to Antonov.
"This will not only make regional flights more accessible, but also increase the market attractiveness of these aircraft," the manufacturer adds.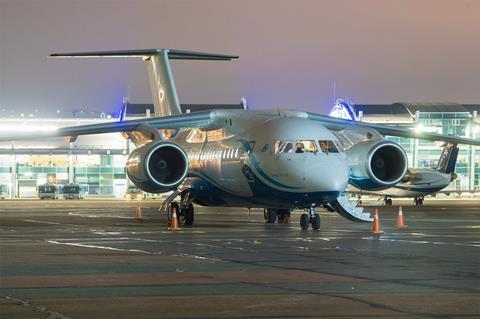 Air Ocean has indicated that cities including Dnipro, Istanbul and Amman are planned.
Antonov says the twinjet has an "excellent optimal aerodynamic configuration" allowing a range of 4,400km, while its high-wing layout reduces the risk of engine damage.
"The aircraft can be used in any climate and even at unprepared airfields," it adds, stating that it can use runways 1,800m in length.
Antonov says the An-148 has "proven itself" in operation, with monthly utilisation of up to 420-440h. Maintenance of the type for the carrier will be carried out in Ukraine.