Uzbekistan Airways is reviving attempts to sell an ageing fleet of Boeing twinjets as well as older Soviet-era aircraft, having recruited a UK-based consultant.
The flag-carrier of the Central Asian state has been modernising its operation and recently opted to acquire additional Airbus A320neo-family jets.
But it has been trying to offload older models, a divestment which is part of a detailed development strategy for the carrier laid out in a presidential decree of April 2021.
Uzbekistan Airways has grouped the fleet into six lots – the initial two of which cover a pair of Boeing 757-200s and a pair of 767-300ERs.
Interested parties have been invited to submit applications by 23 February.
The other four lots, which will be offered at a later date, include a third 767-300ER, a batch of five Ilyushin IL-76TD heavy cargo transports, six Il-114 turboprops and an Il-114 simulator, plus two Mil Mi-8 helicopters.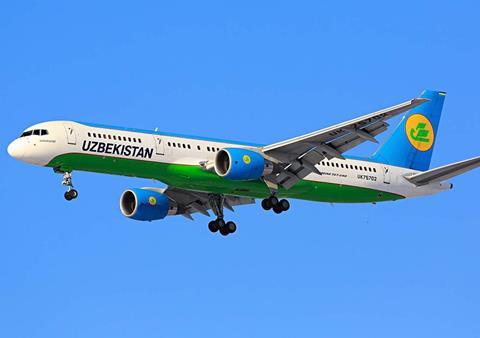 UK firm ACC Aviation was selected in a tender process last year, following consideration of proposals from six local and foreign agencies.
ACC specialises in leasing, strategic consulting and asset management. Uzbekistan Airways says the company has carried out an analysis of the technical condition of the aircraft, and looked at sale mechanisms based on market demand.
But even before the presidential decree, Uzbekistan Airways had attempted to sell the 757s and 767s, as well as its Il-76s and Il-114s.
The carrier confirms the 757s in the latest sale campaign are UK75701 and UK75702 – both 1999 airframes – and the 767s as UK67007 and UK67008, respectively from 2003 and 2004.
All four are fitted with Pratt & Whitney engines.
Sale of the Boeings and introduction of Boeing 787s and Airbus A320neo-family jets featured in the presidential decree which covered several other measures intended to transform the flag-carrier.
These included axing loss-making routes and closing unprofitable representative offices of the airline, as well as expanding its cargo fleet, increasing charter flights, entering codeshares and other partnerships with foreign operators, and cutting discounts on economy fares.
Uzbekistan Airways would also look to take Airbus Helicopters H125s and H130s in place of the Mi-8s being sold.