VietJet Air recently signed a syndicated loan agreement with South Korean and Chinese banks, valued at "over $200 million".
Woori Bank acted as the mandated lead arranger and the other participants are KEB Hana Bank and ICBC, says the Vietnamese low-cost carrier.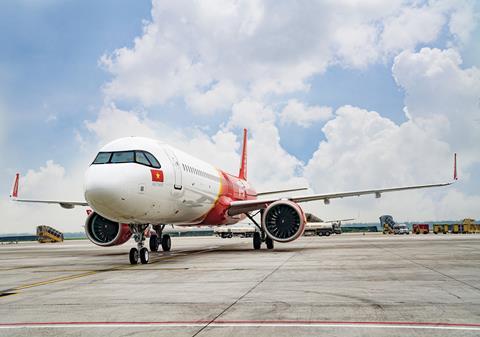 It also signed a separate credit financing deal with Woori for $140 million, and is arranging for a separate deal with "another international bank" valued at $200 million.
"These credit agreements reinforce the growing relationship between Vietjet and the regional banks to diversify capital sources," says VietJet Air.
"With Vietjet's high growth potential, the financing agreements helped increase the medium and long-term foreign currency sources to meet the needs of expanding its modern fleet in line with the company's long-term international growth strategy."
VietJet did not provide further details of the syndicated loan's interest rate and tenor, the capital contributed by each bank, nor elaborate on the principal amount, and did not respond to Cirium's requests for clarification.
During the third quarter, the carrier's operating profit rose 12% to D1.91 trillion ($90.4 million). Consolidated revenue was up 6.8% to D13.6 trillion, though net profit gained just 1% to D1.7 trillion.