UK long-haul carrier Virgin Atlantic is to cut over 3,100 jobs and retire its Boeing 747-400s in an effort to address the financial pressure of the coronavirus crisis.
The airline says it will "immediately suspend" the use of all seven of its 747-400s and is still intending to retire four Airbus A330s, as previously planned, in early 2022.
Virgin Atlantic has been introducing Airbus A350-1000s which are gradually replacing the operator's A340-600s and 747s, and it is also set to acquire A330-900s.
The airline says its fleet will comprise 36 twin-engined aircraft, including Boeing 787s, from summer 2022.
It is temporarily shifting its operations away from London Gatwick, moving its flight programme to London Heathrow instead – although it stresses that it will be retaining its Gatwick slots in order to return once demand improves.
Virgin Atlantic says the post-coronavirus recovery could take up to three years.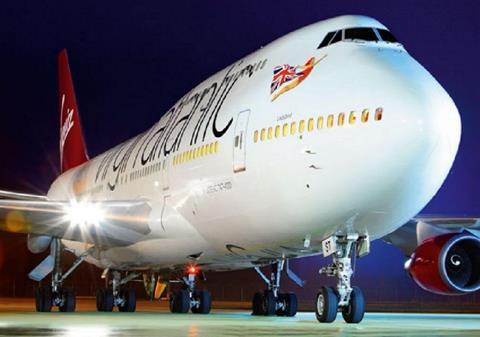 While it is still holding "constructive" discussions with the UK government and other stakeholders, as it explores funding options, the carrier says it needs to reduce costs.
It has commenced a 45-day consultation with its unions, stating that it must "regrettably" cut 3,150 personnel.
"We have weathered many storms since our first flight," says chief executive Shai Weiss. "None has been as devastating as [coronavirus]."
He says the airline needs to return to profitability in 2021.
Virgin Atlantic will incorporate its name into its leisure operation, rebranding it as Virgin Atlantic Holidays. The division will continue to concentrate on digital distribution, and the company says 15% of its retail estate will close this year.