UK long-haul airline Virgin Atlantic Airways is preparing to withdraw its final Boeing 747-400, which is set to be transformed into a US-operated troop carrier.
The aircraft (G-VROY), parked at the airline's London Heathrow maintenance hangar, has undergone an acceptance check by its lessor.
FlightGlobal understands that the aircraft is due to depart on 16 December, or possibly 17 December, bound for Pinal Airpark. It will be taken up by Atlas Air as a troop carrier.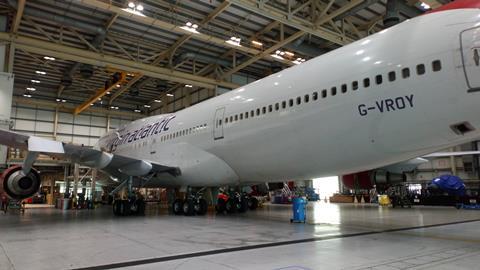 Speaking at an event on board G-VROY on 11 December, Virgin Atlantic chief customer and operating officer Corneel Koster said the aircraft would have a "new home" but "still fly customers around the world".
Koster says the carrier operated some 30 747s over its history, transporting around 60-70 million passengers on the type. G-VROY, leased from GECAS, was originally delivered new to Virgin Atlantic in mid-2001.
But Virgin Atlantic is phasing out its four-engined 747 and Airbus A340 fleets in favour of twin-engined Airbus A350s and Boeing 787s, already in service with the carrier, and A330neos which will arrive from 2022.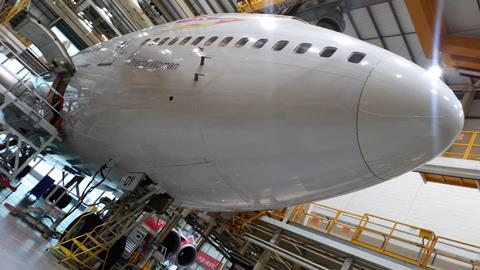 G-VROY is powered by General Electric CF6 engines. Withdrawal of the fleet has required the original engines on each leased aircraft to be re-installed – in their original positions – if they had been removed.
Virgin Atlantic undertook 17 engine changes while the aircraft were parked at Manchester in order to complete these preparations.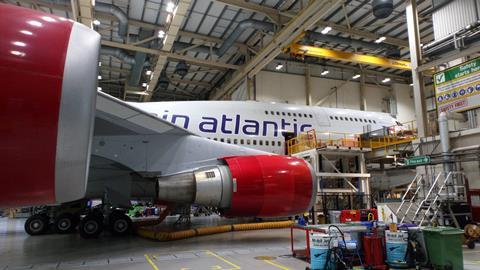 The airline is hosting a special event on G-VROY for enthusiasts on 12 December, attended by Capt Yvonne Kershaw who moved from being a Boeing MD-83 pilot to joining Virgin Atlantic as 747 crew, subsequently becoming the UK's first female 747 captain in 1993.
Koster highlights the appeal of the 747, pointing out that 100,000 people expressed interest in the event within the first minute of its being advertised.
"We're not ones to go quietly – we'd have liked to have had a big bash," he says, but current restrictions will force the airline to limit the attendance to 40.