Volga-Dnepr Group (VDG) has temporarily suspended operations at its AirBridgeCargo and Atran Airlines subsidiaries.
VDG says it has taken the decision in response to sanctions affecting lessors and the decision of Bermuda Civil Aviation Authority (BCCA) to suspended all airworthiness certificates for Russian aircraft on its registry.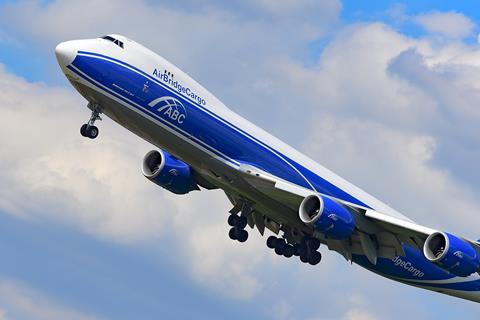 Sanctions imposed by the EU require lessors to terminate any aircraft lease deals they have with Russian airlines.
Meanwhile, the BCCA says that international sanctions on the aviation sector have had a significant impact on its ability to sustain safety oversight on Russian-operated aircraft.
All of AirBridgeCargo's fleet – four Boeing 747-400Fs, 13 747-8Fs and one 777F – and the five 737 freighters operated by Atran Airlines are listed on the Bermuda registry.
"The Volga-Dnepr Group's management has taken this decision and is working together with its partners and regulators to find possible solutions under the current situation," VDG says; many of its employees have also been furloughed.
Airspace restrictions on Russian carriers had already severely limited the group's operations.
While the Atran and AirBridgeCargo fleets will remain on the ground, VDG will still use the Russian-registered aircraft flown by Volga-Dnepr Airlines, chiefly Antonov An-124s and Ilyushin Il-76s.