India's SpiceJet is to "significantly" restructure its balance sheet in the coming months, raise fresh equity, and embark on an "aggressive push" to grow its fleet.
Airline chief Ajay Singh says the airline is also in the process of hiving off cargo unit SpiceXpress and Logistics, with the new subsidiary helping to raise capital for the embattled carrier.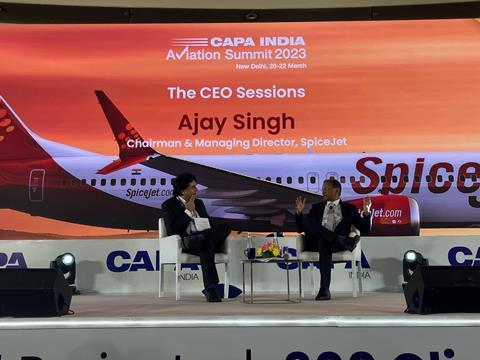 Singh, speaking at the CAPA India Aviation Summit 2023 in Delhi on 20 March, said the airline is focused on "cleaning up the balance sheet" in the near term.
"We are trying to restructure the balance sheet in a significant way. You will see a vastly different balance sheet over the next two quarters. The process has already started," says Singh.
His comments come weeks after the airline agreed to a debt-for-equity deal with lessor Carlyle Aviation Group, which saw the airline restructure close to $100 million in outstanding payments into shares and compulsory convertible debentures.
SpiceJet in February announced pre-tax and net profits of just over Rs1 billion ($12.1 million) for the quarter ended 31 December 2022, on the back of an upturn in demand and yields.
The airline has seen its domestic market share dwindle in recent months. Where it was once the country's second domestic operator, the latest traffic data shows the airline languishing in fifth position.
Singh acknowledges it was "the weaker link" in the Indian aviation sector during the Covid-19 pandemic, noting that SpiceJet lacked "strong reserves" or a strong backer.
Still, Singh remains optimistic of the airline's prospects despite the headwinds: "Any measure of desperation is always good for an organisation…I'm very positive…I think there is a lot of good stuff happening at SpiceJet."
He later adds: "It is in [SpiceJet's] DNA. We just refuse to die."
The airline is betting on its SpiceXpress and Logistics unit, which will be hived off by April. The new unit is expected to get a large number of dedicated freighters in the near term, says Singh, who adds that the cargo business will "help pay off" some of the airline's liabilities.
He notes there is strong demand not just within India, but also to China, South Korea, as well as to Europe.
SpiceJet is also working to build back its international capacity, which at one point made up 40% of system-wide capacity. Singh does not disclose where the airline stands now in its international recovery, but notes that the airline wants to "get back to that as much as possible".
"We feel that as we grow again, as we start to come back again, you will find a lower cost base," says Singh.