Portuguese operator Hi Fly is ending its Airbus A380 services, just two-and-a-half years after taking on the type to explore its potential for the wet-lease market.
Hi Fly acquired a former A380, MSN6, in mid-2018.
The aircraft, powered by Rolls-Royce Trent 900 engines and configured with 471 seats, had been delivered originally to Singapore Airlines as 9V-SKC in 2008.
As Singapore Airlines started to phase out these early-build A380s, Hi Fly opted to take one of them for high-capacity wet-lease services.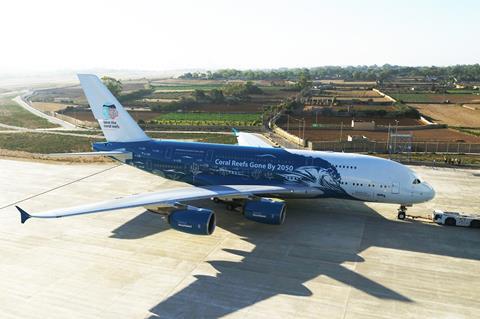 It registered the aircraft with its Maltese division as 9H-MIP, unveiling the jet in a new colour scheme at the Farnborough air show two years ago.
While Hi Fly insists its operations with the A380 have been "successful", the carrier says the "drastically-reduced" demand for large aircraft capacity has spurred its decision "not to extend" the lease period for the type.
Cirium fleets data lists the aircraft as being owned by Doric.
Hi Fly had expressed confidence last year that its operation could serve as a management platform for second-hand A380s, and that the company was certain it would acquire additional airframes.
But instead it will withdraw its single A380 at the end of this year. It had temporarily converted the jet to transport freight as the air transport crisis sapped passenger demand.
"This aircraft was a testimony to how far human beings can go in developing something so extraordinary," the company says.
Hi Fly says it will replace the A380 with "additional" A330s, stating that the twinjet is "more adequate" for the weaker market conditions.
The carrier uses the A330neo as well as older A330-200s and -300s, among other types in its fleet.
Airbus took orders for 251 A380s before terminating the programme, of which 242 had been delivered by the end of September.
The airframer lists 15 operators of the double-deck type, including Hi Fly – the only carrier using the A380 which had not ordered it directly from Airbus.
Several A380 operators have parked their aircraft or opted to withdraw them from service.