Wizz Air ended the latest fiscal year with more aircraft in its fleet than it had forecast a year previously, despite the impact of the air transport crisis.
The budget carrier had expected its fleet to expand from 121 to 131 aircraft over fiscal 2020-21 but the figure actually reached 137 by the end of March.
Wizz took a net 16 aircraft during the year and introduced seven more Airbus A321neos than it had projected in its fleet forecast of June 2020.
As a result, the A321 accounts for over half the seats in the airline's fleet – a total of 52% – after the carrier brought in more of the larger variant and returned older A320s to lessors.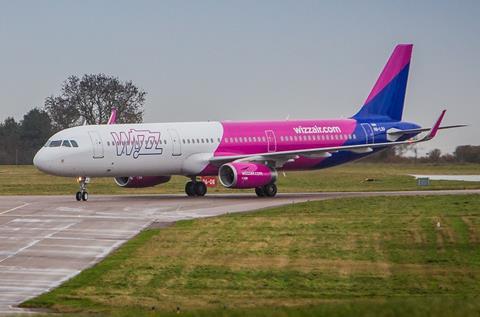 "Airbus singled out Wizz Air as one of its customers who continued to take deliveries of its order book aircraft throughout [the year]," says the airline.
"Despite the pandemic, Wizz Air actively pursued accelerating its fleet-renewal programme and bringing forward the benefits of new technology."
Wizz Air's expansion strategy over the past year has included starting up a new Middle Eastern division based in Abu Dhabi.
The fleet changes have increased the airline's average number of seats per aircraft to 205.
Wizz Air expects to have 148 aircraft in its fleet at the end of the current fiscal year in March 2022, comprising 90 A321neos and A321s plus 52 A320s and six A320neos. At this point A321neos and A321s will account for two-thirds of its seat capacity.