Central European budget carrier Wizz Air is to explore the potential for hydrogen-powered aircraft operations under an agreement with Airbus.
The two sides have signed a memorandum covering analysis of hydrogen operations, intended to provide the carrier with a "deeper understanding" of how such aircraft could change its business model, says Wizz.
It will identify operational and infrastructure aspects as well as challenges associated with operating such a fleet.
Wizz will examine the effects of hydrogen-powered aircraft on the airline's network, schedule, and operations bases, through an analysis of refuelling issues, aircraft range, and other performance characteristics.
"We believe that growth and sustainability are not mutually exclusive, with leading-edge new technology paving the way to more sustainable air travel," says Wizz chief environment, social and governmental officer Johan Eidhagen.
He describes the agreement with Airbus as "momentous" and adds that, by assisting development of efficient operations and business models, it will "advance sustainable aviation across the globe".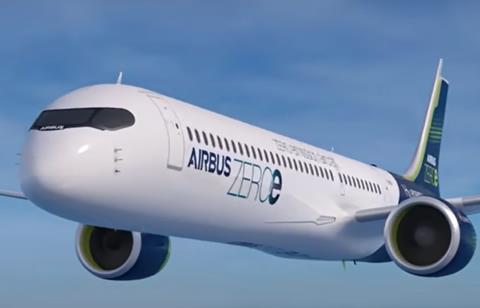 Wizz and Airbus will examine evolution of the hydrogen eco-system under the agreement, looking at such factors as regulation and energy pricing.
The airline operates an all-Airbus fleet and has hundreds of twinjets still on order from the airframer.
Airbus is heavily engaged in its 'ZEROe' programme to design and produce a hydrogen-powered aircraft with a view to service entry in 2035.
Vice-president for zero-emission aircraft Glenn Llewellyn says Wizz will collaborate with continuing research into the requirements of hydrogen aircraft operations.
"Understanding airline fleet and network performance enables us to better define the architectural characteristics for a future 'ZEROe' aircraft as well as the impact on airports, ground support and route network," he says.