Wizz Air UK has commenced preliminary work assessing possible routes for the long-range Airbus A321XLR, as part of the carrier's fleet-expansion strategy.
Speaking during a briefing in London on 20 October, managing director Marion Geoffroy said the UK would be a "good market" for the A321XLR.
"We've actually started design of the potential network for XLRs," she says. "We've secured some designations to countries where we currently don't fly to."
But Geoffroy stresses that the airline is not aiming to join the "ultra-competitive" transatlantic market.
"We're looking east," she says, pointing out that the transatlantic routes are "dominated by alliances" – underlined by Virgin Atlantic's recently-disclosed accession to SkyTeam.
"Our brand is there in the east already, in several countries, and we really want to capitalise on brand-awareness in eastern countries where we've been operating – whether it's Israel, Dubai, Jordan, the United Arab Emirates, Bahrain, or Saudi Arabia, which is also on the map.
"So we're rather looking at those destinations for potential XLR operations from the UK."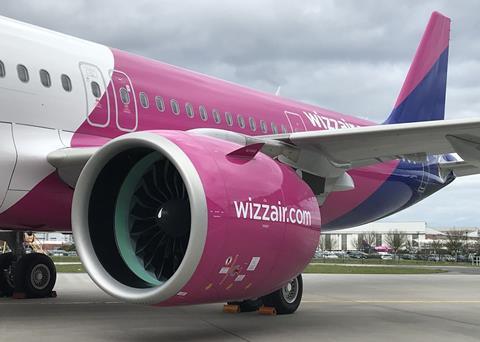 Geoffroy has ambitions to bring the Wizz Air UK fleet up to 50 aircraft by the end of the decade.
The broader Wizz Air group, which has just taken its Airbus fleet to 170 aircraft, has a batch of A321XLRs on order. The aircraft is still undergoing certification and entry into service is scheduled for 2024.
Wizz Air has established a venture in Abu Dhabi, the capital of the UAE, and Geoffroy says the XLR could help link the UK – via the Gulf – with destinations in Asia and the Indian subcontinent.
"[We] don't want to be replacing [the Gulf] carriers because we'll not be offering a [connecting] service," she states.
"We're still going to be point-to-point but it will make connections easier. And for those passengers who are cost-disciplined and want to fly at the lowest price, that's going to be very attractive."
Wizz Air UK already conducts long-sector services to Israel and Cyprus, and Geoffroy believes passengers will not be deterred by the prospect of flying 7-8h on a single-aisle aircraft, because the seat offered is "comfortable" and personal devices offer in-flight entertainment.
"Lowest cost will be always more attractive than getting hot chicken," she insists.