Wizz Air's proposed US services, which have irked US pilot representatives, centre on the freighter flights it operates for the Hungarian government.
The airline operates a single A330-200F, registered HA-LHU, which is owned by the government of Hungary.
Examination of the permit filed with the US Department of Transportation shows the airline's application features details of the Rolls-Royce Trent-powered A330 – details which include its insurance as well as its maintenance arrangements with Lufthansa Technik.
Wizz Air says the request for a foreign air carrier permit with the US authorities is "to secure any possible future commercial cargo operations" to US destinations using the aircraft.
The Hungarian government acquired the twinjet in 2020. It had originally been delivered to Qatar Airways in 2014.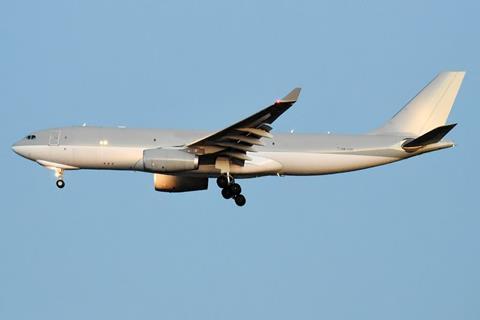 US pilot representatives have taken the opportunity to lodge objections to Wizz Air, largely over its anti-union stance and labour practices.
The Allied Pilots Association, which represents American Airlines pilots, has been particularly concerned.
It refers to business arrangements – such as American's link with JetSmart – which connect Wizz Air's investor, Indigo Partners, with the US airline.
"[Owing] to these direct and indirect business relationships, the processing and outcome of [the Wizz] permit application is particularly important to the [Allied Pilots Association] due to its likely impact on American Airlines," the organisation states.
It points out that Wizz's filing, while mentioning charter and cargo services, contained "very little detail" about its plans for US operations, including destinations, frequencies and schedules.
The association argues that Wizz's application is "procedurally and factually insufficient", and that the Department of Transportation should deny the permit – or at least delay consideration until it addresses the other matters of concern, including labour rights.
Other pilot unions, including the Independent Pilots Association, ALPA International, and the Southwest Airlines Pilots Association, have formally submitted similar objections to Wizz's filing.