Wizz Air has converted 21 Airbus A320neo commitments to the A321neo, a further shift of its single-aisle backlog towards the higher-capacity variant.
The airline disclosed, as it released full-year final results, that it formalised the conversion in May.
Deliveries of these aircraft will be carried out over the course of 2024-26.
Wizz took delivery of 25 A321neos over the financial year to 31 March 2022, while returning nine older A320s, giving the carrier an overall fleet of 153.
It expects to increase the fleet to 182, half of them A321neos, by the end of the current fiscal year.
Wizz Air chief Jozsef Varadi claims it has "one of the highest renewal rates in the industry", and the average fleet age is five years.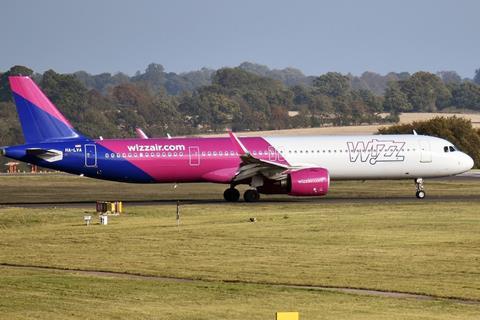 The airline says it is continuing to work on repatriating four aircraft which have been stranded in Ukraine as a result of the conflict which broke out earlier this year, and has been assessing the costs associated with potential maintenance given the limited access to the jets.
"Based on photographic and local employee information, management believes that these aircraft are in good condition and have not been damaged in the conflict," says the airline.
Wizz has a total of 415 aircraft in its order backlog, and 40 are due to be delivered this fiscal year. The airline says financing has already been contracted for 29 of them.