FlightGlobal is delighted to announce the launch of the Decade of Airline Excellence Awards, which Airline Business will deliver later this year with our partner, Korn Ferry.
Amid this year's unprecedented disruption, we have decided to take a break from the Airline Strategy Awards – which will return in the usual format in 2021.
Instead, the same team and judges will focus on celebrating the best airline stories from the decade prior to the current crisis – a period of high points for the industry that brought air travel to new markets and catapulted issues such as sustainability to the forefront of strategic thinking.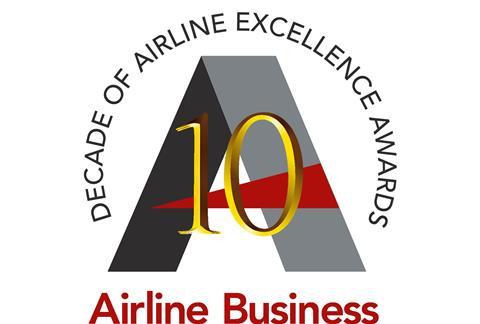 The Decade of Airline Excellence Awards will recognise successful and noteworthy strategies that have had a lasting impact for an airline or the air travel market as a whole. To ensure we do not just consider the overall strongest market performers, the stories behind the nominations will primarily come from one of four areas: financial performance; business strategy; innovation; and diversity and sustainability.
Six awards will be handed out – one to an airline from each of the six major regions: North America, Latin America, Europe, Asia-Pacific, the Middle East, and Africa.
The Asia-Pacific category is sponsored by Shannon Engine Support, and more sponsors will be confirmed soon.
"The current uncertainties in the market make this an ideal opportunity to look back on the 2010-2019 period and recognise the airlines that had a lasting impact on the sector as it recovered from the financial crash," says Airline Business managing editor Lewis Harper.
"Once this event is delivered, we look forward to starting work on 2021's Airline Strategy Awards, which will aim to recognise the unprecedented work currently being undertaken to navigate the world's airlines through the current crisis."
The recipients of the Decade of Airline Excellence Awards will be announced in early December on FlightGlobal.com, our social channels and in the final issue of Airline Business of 2020.
Keep up to date with the latest from the awards at: flightglobal.com/DecadeAwards