Latin American operator Avianca is voluntarily filing for Chapter 11 bankruptcy protection with a New York court, to give the company time to re-organise its business.
Avianca Holdings says the filing request, with the Southern District of New York bankruptcy court, is "necessary" given the "unpredictable impact" of the coronavirus crisis on its operations.
It says the measure is intended to "preserve" its business. "Avianca will continue to operate and serve our customers during this process," it stresses. "We remain steadfast in our commitment to connect individuals, families, and businesses."
Avianca Holdings is one of 39 companies participating in the joint filing, with others including Avianca Ecuador, Avianca Costa Rica, Tampa Cargo, and Taca International Airlines.
The filing lists Avianca Holdings as being 78.1%-owned by BRW Aviation while the balance of 21.9% is owned by Kingsland Holdings.
Among its five largest secured creditors is Wilmington Savings Fund Society with bonds of over $484 million. UMB Bank is listed against another $325 million, but stresses that it is the creditor "in name only" and is only acting on behalf of the actual long-term credit holders. "The credit does not represent a debt owed to UMB in its individual or corporate capacity," the bank states.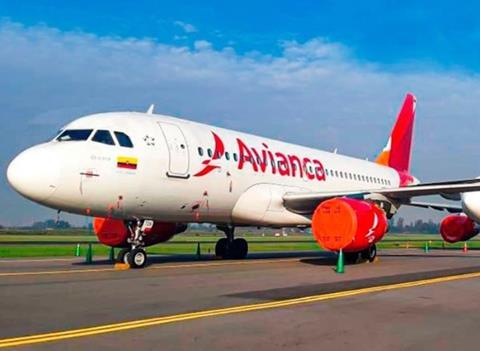 The filing lists the 40 largest unsecured creditors including engine maintenance providers, aircraft manufacturers, leasing firms and various aviation service companies.
Avianca says it will restructure its balance sheet and obligations to deal with the effects of the crisis and to manage its aircraft orders, leases, and other responsibilities.
"It is important to note that this is not an insolvency or liquidation procedure," Avianca is assuring its suppliers. "We intend to pay providers in a timely manner for goods and services provided."
The company adds that it is continuing to engage in discussions with the Colombian government over financing structures that would provide additional liquidity through the Chapter 11 process. It says it intends to exit the re-organisation as a "highly-competitive and successful" airline.
"We remain a trusted partner," Avianca insists. "As government-imposed travel restrictions on [coronavirus] are gradually lifted, we plan to resume our passenger flights and look forward to welcoming our employees again.
"Before the global pandemic, we had made significant progress on our 'Avianca 2021' plan and we remain committed to our purpose of connecting people, families and businesses."