UK VVIP charter operator Acropolis Aviation has taken delivery of the first outfitted Airbus ACJ320neo from Swiss completions company AMAC Aerospace, and is preparing the luxury re-engined narrowbody for its first commercial flight on 3 March.
The arrival of the ACJ320neo (G-KELT) on 27 February came a little over a year after the green aircraft arrived at AMAC's Basel headquarters.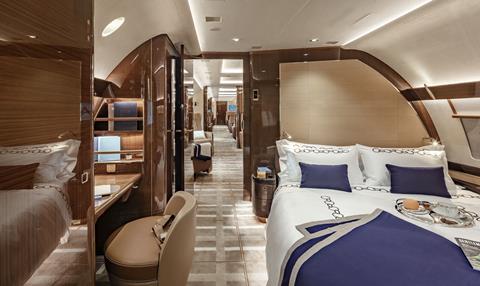 Created by French design house Alberto Pinto, the interior accommodates 19 passengers. It features a forward lounge and dining area, a full-sized kitchen and a private master bedroom leading to a luxury en-suite with the largest shower "ever to be installed in an Airbus single-aisle aircraft", says Acropolis.
G-KELT has been fitted with the Collins Aerospace Venue cabin management system and Stage in-flight entertainment system, "allowing hundreds of movies and TV programmes to be viewed on 19 individual iPads and four large TV screens throughout the cabin", the operator adds.
Collins is also providing its Viu LED mood interior lighting system, while its Airshow moving map display features on the four large cabin screens.
The CFM International Leap-1A-powered narrowbody also features in-flight wi-fi via a Ka-band internet connection.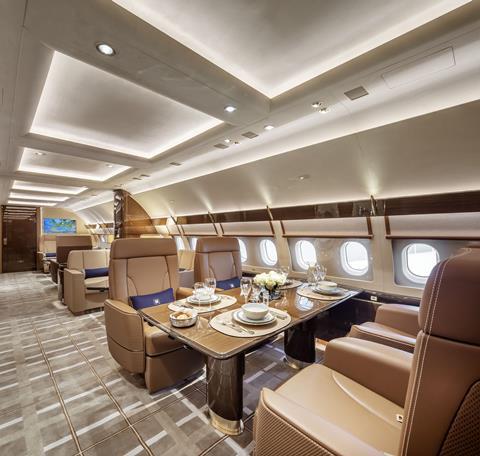 "We are absolutely delighted with the high quality of workmanship that has gone into the creation of G-KELT since it arrived green in January 2019," says Acropolis chief executive Jonathan Bousfield. "AMAC Aerospace has created something very special, which will set new standards of comfort and well-being within the VVIP charter market, fully utilising the cabin space."
G-KELT will make its public debut in May at the European Business Aviation Convention and Exhibition, in Geneva, Switzerland.