Voom, the Airbus-backed online helicopter booking platform, has ceased operations following disruption caused by the Covid-19 outbreak.
Clement Monnet, Voom chief executive, says the company was faced with some "hard choices".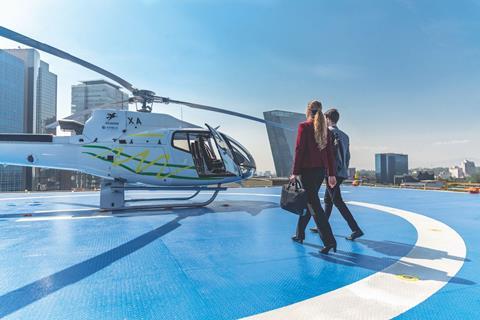 "On March 23 we made the difficult decision to cease global operations due to the virus, and today with our Airbus leadership, we have made the tough call that Voom will not resume its operations," he says.
The company was launched in 2016 with the ambition to "democratise access to the skies and transform how people move in urban environments", says Monnet.
It has grown from a project inside Airbus's A3 innovation centre in Silicon Valley, to a multinational company operating in "three of the most populous and congested metropolitan areas in the world" – Sao Paolo, Brazil, Mexico City and San Francisco. Voom used a network of operators to provide the helicopter flights, which could be booked via an app or online.
"While we would have loved to continue our ambitious work, we have achieved our two major initial goals for this project," says Monnet.
The first was to provide Airbus with extensive data about customer preferences and behaviour that will support the wider plans for urban air mobility (UAM) services using electric-powered vertical take-off and landing (eVTOL) aircraft.
Airbus has developed two eVTOL programmes, the one-seat Vahana technology demonstrator, and the five-seat City Airbus, which was aiming for certification around 2023.
Monnet says Voom's democratisation goal has also been met, with nearly 150,000 people signed up for the app and 15,000 passengers flown. Monnet says 60% of customers were making their first flight in a helicopter and Voom achieved a 45% repeat customer rate. The average ticket price was around double the cost of private car service but 10 times faster, Monnet claims.
He describes the Voom era as "just one chapter in urban air mobility, with so much more to come. It is not a question of whether the UAM market will open up, but when."