AirVenture - the world's largest general aviation event, held annually in Oshkosh, Wisconsin - has become another casualty of the coronavirus pandemic, following a decision by the show organiser to cancel the gathering.
Jack Pelton, chief executive of the Experimental Aircraft Association (EAA), says with Wisconsin "under a stay-at-home order through 26 May", there is not enough time to prepare for the convention, which was to be held from 20-26 July at Wittman airport.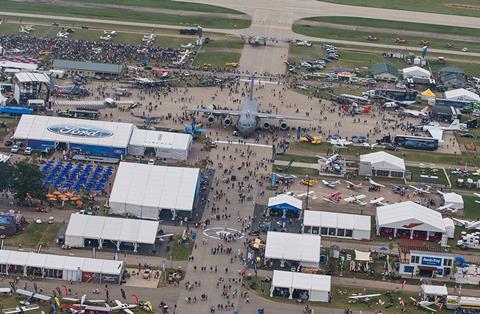 AirVenture 2019 attracted over 640,000 visitors, 860 exhibitors and 10,000 aircraft from across the globe. The line-up included nearly 3,000 "showplanes", including business aircraft, commercial airliners, military types, kitplanes, seaplanes and warbirds.
"Normally, this is the month when we start our pre-flight planning," says Pelton. "Volunteers from across the country and the world would have descended on Oshkosh. Together they would have formed work parties, [and] our suppliers would be starting to set up tents and infrastructure."
Due to "circumstances beyond our control" the show cannot go ahead, he says. Aside from the organisational difficulties, Pelton says there is "the bigger issue of predicting what will be the health guidelines [around coronavirus] in July".
"Right now, there are three phases that have been defined in Wisconsin as the recommended procedures [for coming out of lockdown]," he notes.
"As I write this [on 1 May], we are not in phase one yet. Phase two restricts gatherings to 50 people. Phase three allows for mass gatherings with restrictions."
Pelton says EAA cannot predict whether AirVenture can meet the requirements for the third phase.
"My conclusion is, like in any good flight planning, don't take the risk," he says.
"Together, we can come back stronger, safer and ready for AirVenture 2021 and create a memorable world-class aviation event."
AirVenture will take place next year between 26 July and 1 August.