Covid-19 may have forced international airline travel to a virtual stop, but the world's wealthy and powerful still want to get around. This is reflected in a business aviation sector relatively unscathed by the crisis – at the luxury end at least.
The hangars at Swiss corporate jet maintenance and completions house AMAC remained busy during 2020 and are booked through this year. "We haven't experienced a big downturn because of the pandemic," remarks group chief financial officer Mauro Grossi.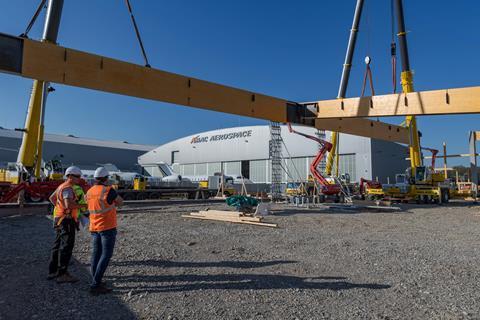 The Basel-based company has secured three green aircraft completion projects for 2021 – a head of state Airbus ACJ320neo and a private ACJ319neo, as well as a Boeing 737 Max 9 for another private client. A government-owned 747-8 will also undergo a "major refurbishment".
The ACJ320neo arrived in Basel in October 2020, and is due to be handed over this August, while AMAC took delivery of the ACJ319neo in late January and is due to finish the contract in the first quarter of next year.
AMAC became the first completions house to redeliver an ACJ320neo in early 2020, after installing the interior on the corporate version of the new generation jet for UK luxury charter outfit Acropolis Aviation.
Its second 747-8 was finished in the third quarter of 2020, following a completion effort lasting around three years. The project involved the installation of an Elbit anti-missile countermeasures kit.
An original 747-8 – MSN 37075, completed in 2015 – is listed for sale on the AMAC website.
The company plans to open a fifth hangar at its site at the Basel-Mulhouse-Freiburg EuroAirport that sits close to the border of France, Germany and Switzerland. It will be used primarily for large-cabin traditional business jets, including servicing and warranty work on Bombardier aircraft – the Canadian manufacturer appointed AMAC an authorised service centre in 2018.
AMAC, which also has businesses in France and Turkey, intends to recruit a small number of technicians during 2021. The company employs about 1,000 people, 780 of them in Switzerland.