Airbus has begun assembly at its Mirabel, Quebec plant of the first ACJ TwoTwenty, the business jet version of the A220-100 airliner.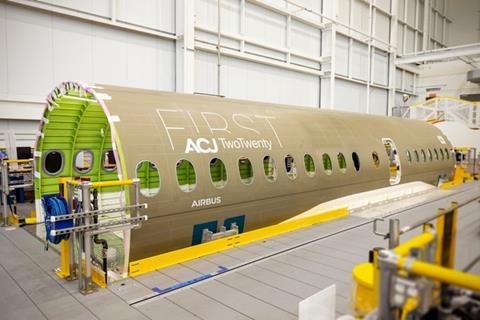 First flight of the aircraft – originally developed as the Bombardier CS100 – is scheduled for the final quarter, with delivery in early 2022 to Comlux, which is also the sole completions provider for the programme. Service entry is expected in the first quarter of 2023.
Speaking at an EBACE Connect briefing today, ACJ president Benoit Defforge said the TwoTwenty, which was launched last year, had "opened the door of ACJ to a much wider market".
Traditionally, Airbus has competed with Boeing Business Jets for a largely head of state market with its airliner-derived range. However, the European airframer believes the TwoTwenty makes the brand competitive with traditional business jet manufacturers such as Bombardier, Dassault and Gulfstream, by offering a similar range to their large-cabin types, but with a more spacious interior.
Airbus holds orders for six TwoTwenty jets – two from Comlux and four from unnamed customers.
Airbus also today announced an order for its ACJ319neo from an undisclosed operator. The aircraft will be equipped with CFM International Leap-1A engines.
This takes the order tally for ACJ320neo-family jets to 16, including six for the ACJ319neo. Deliveries of the ACJ319neo began in 2019 and three are in operation with three customers.